…in the whole IPL Tharoor-Modi fiasco, I finally watched an IPL match too (which I am totally not in favour of, purely cos it's so-oh well a grand mockery of a decent sport- but that's for another time). Bombay won, and Sachin got hurt. And I recalled 1993.
1993 meant I was in school and infact since it was my cousin's first birthday, I already remember it was June. In those times(before we could dish out- she's too busy/ in a big class now excuse) summer holidays for us meant going to Jammu. All of us cousins with respective mummies and papas used to gather at one house where my grandmother used to stay. In the day(believe it on not!) Jammu is just as scorching as Delhi. Had to say this because most people in office take J&K to be one. But climatically and otherwise, it's vastly different. Now with the heat, we were pretty much restricted to the house. There was also this whole system of putting kids off to sleep after lunch- which took care of all the younger ones. I was a ten and a half (actually exactly that) and at the point when sleeping in the afternoon next to snoring aunts isn't the best activity.
Some years before the day I talk of, mum hired a domestic help- this 10 year old (then) girl who was to take care of my sister especially during the work day. The girl in question was from Nepal. Her brother used to work with us, and brought her to our place in a runaway case. Her father had apparently lost it, and had decided to sell the daughters and the wife for some thousand Nepali rupees. I do not recall what the wife did, but the daughters had been brought to Srinagar on a rescue operation. I'm just suddenly thinking how they travelled from Nepal to Srinagar while on a run. I don't think I ever asked this. Durga (I think we rechristened her) quickly learnt Kashmiri and became one of us. She couldn't go to school, but everyone made sure she would learn to read/write Hindi and Maths and knitting/sewing etc.* Left me with random views of Nepali men- now I take care not to generalise, but back then it was just tough to understand and very very filmy.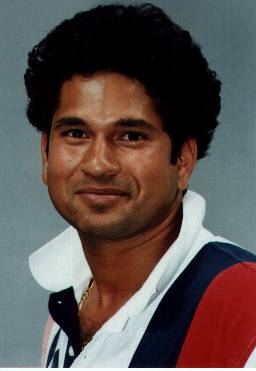 She hated Maths, but she enjoyed keeping a diary. She would write songs- from films and prayers, and her own story in her (by then) refined Hindi. We used to be very close when we lived in the joint family. Later I had shifted to Delhi and she lived with my grandmother. On that nothing afternoon in 1993 she and I got talking and she shared her diary with me. Now this diary had the expected song-dance routine. But it also had newspaper cuttings of a curly haired, short, Sachin Tendulkar. Durga was 5'0′ and she thought a 5″4′ Sachin was a heavenly match for her (all this had been calculated). She loved him. He was a flamboyant player- but I suspect his height was a real pull. In times as those it was simple- she liked a player- she prayed that she should marry him. I do not think she or I had been exposed to "celebrity-crushes" as a term. I was barely getting out of the "always fight with boys since all girls are doing it phase". She was 17-18, but had grown up to believe- whoever you like you marry 🙂
And to think that these days my celebrity-crush holds true for 30 secs a day at best with changes everyday. Praying to marry some star with such belief is just beyond me. But every time I recall Sachin's dilapidated picture in that old notebook, I am always smiling. For anyone else I would've laughed, but I knew her and she was so genuine that ah well! 🙂
PS *Durga got married to a Nepali guy, she met through our family. She initially thought she would marry a Kashmiri but chose him instead. Her husband works in some firm. She currently works as a tailor. Durga has two kids- a boy and a girl, both of course go to school and are doing well in studies. They live in Jammu.
Image www.topnews.in